Open shelves in the kitchen can be used to store almost anything, but what should you place on them that truly works best? Here are some of my favorite uses for open shelving, along with some style tips to get the best arrangement for your kitchen.
Stephanie Kraus Designs, LLC
Save
Email
Open shelves are a love-it or leave-it idea, but for those who love them, the breezy appeal is undeniable. They take an extra investment of time compared to closed cabinets (as more tidying is necessary), but they can add a lot of style and functionality without too much work.
Open shelves are especially suitable, I think, to
transitional kitchen designs
, in which a balance of traditional and contemporary sensibilities come together to produce beautifully livable spaces.
Habitations Residential Design Group
Save
Email
Daily Essentials
Some of the most common items to spot on open kitchen shelves are daily essentials like coffee mugs, plates and bowls. Items like this work well on open shelves for two reasons.
Habitations Residential Design Group
Save
Email
First, they're kept in easy reach, which speeds up your morning just that little extra bit. And it's especially convenient for guests who may want to grab a coffee mug or water glass without having to poke through every cabinet.
Second, putting often-used items on shelves avoids the issue of dust buildup. If the items are used frequently, they won't sit for long. If you keep rarely used items like specialty glasses or serving pitchers on open shelves, be prepared to give them a rinse before use.
William Guidero Planning and Design
Save
Email
Drinking Glasses
Glasses are especially attractive items to store on an open shelf because their clear material plays into the breezy look. Storing basic drinking glasses upside down (as is typically done in restaurants) effectively seals out dust and debris, so the glass is ready to go whenever you grab it.
Again, for less commonly used pieces like martini glasses (for some, anyway), a quick rinse will generally do the trick before use, along with the occasional seasonal dusting.
株式会社夢工房キッチンくらぶ
Save
Email
Finch London
Save
Email
Storage Jars
Storage jars are another great use for an easily reached shelf. This keeps items off the counter so you have more free space to work, but the jars are still handy so you can grab them without having to open a cabinet with (potentially) messy fingers.
Fireclay Tile
Save
Email
Colorful Pieces
Besides practical uses, open shelves can also add a lot of character and beauty to a kitchen. Whether you already have a colorful kitchen or a more neutral scheme, shelves are a great place to introduce a new accent hue, such as classic rich-blue water glasses or copper mule mugs.
Windstone Partners
Save
Email
White Porcelain
In contrast to the previous tip, sometimes the items on open shelves can serve as a visual break on an already busy wall. If you have a dramatic tile, or a stunning brick feature like in this covetable space, simple white porcelain and other subdued pieces provide a pleasing counterpoint.
deulonder arquitectura doméstica
Save
Email
deulonder arquitectura doméstica
Save
Email
Spices and Seasonings
Speaking of covetable kitchens, this one has seemingly everything a chef could need, including open shelving for an array of spices. Who knows what new dishes you might cook up with each spice and seasoning in view?
Kate Roos Design LLC
Save
Email
Coffee Station
If you have a nice coffee maker, you'll likely want to carve out a little space to hold fresh beans, sugar, coffee spoons and other supplies to craft the perfect cup. A floating shelf above the machine creates a simple station to store everything, plus a few good go-to cookbooks.
And of course, for the tea drinkers (or home-soda aficionados), you can stash tea bags, honeys and syrups, cups and saucers … the list goes on. Just be sure to consider whether such items will be OK outside the fridge and potentially exposed to warm sunlight or exhaust from nearby appliances.
J NORD WOLFE General Contracting Inc.
Save
Email
Home Bar
If you drink alcohol, you can also take an array of beautifully bottled liquors and make them into a simple home bar. Richly hued glass bottles with ornate labels make for a subtly colorful display with a sophisticated air, especially when paired with classic bar tools in a golden finish. To keep the arrangement lasting, you can always refill an emptied bottle with water and mix it back onto the shelf.
KOR Interior Design
Save
Email
Cookware
If you cook often, you may want to have more than just your ingredients right at hand. Stacking casserole dishes, cake pans or even pasta pots on a shelf keeps them from getting buried in the back of cabinets. The look works especially well for kitchens with a rustic or industrial edge, where a little controlled chaos adds to the charm.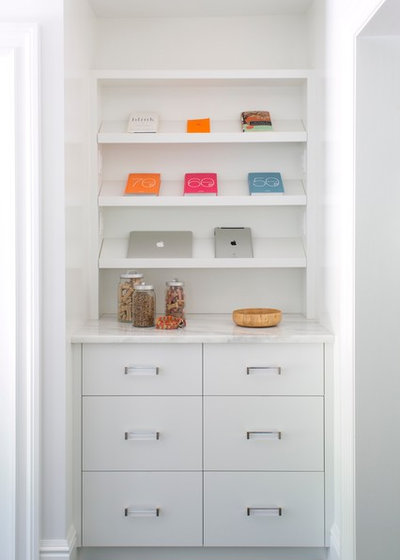 d2 interieurs
Save
Email
Tech Devices
Here's an option you might never have thought of: using open shelves to dock your devices, like tablets or laptops. Angled shelves like these are great for storing devices securely, with any charging cables discreetly tucked behind the lip. It's especially handy for those who cook along to online recipes. Alternately, you can locate them on a side wall out of the main cooking area, paired with some books to make an attractive library-like display.
Kate Dickson Design
Save
Email
Decorative Pieces
Do you love the look of open shelves but are concerned about having to dust lots of items? Consider using just a single shelf with only a few decorative pieces. You won't have too much space to worry about filling or maintaining, but it will add a fun, contemporary twist to the space.
Cameo Kitchens
Save
Email
A Few Style Tips
To help you get the function and the look you love, try these kitchen shelf styling tips.
Play with heights and directions.
Notice how the books on these shelves are stacked in two directions. Playing with the arrangement by mixing different-sized objects and small or short stacks of items creates a dynamic look.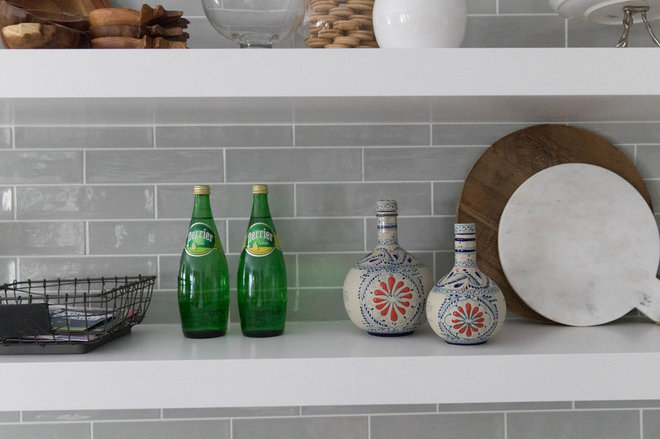 Nest Interiors
Save
Email
Mix eclectic items.
It also helps to mix diverse items, both practical and decorative pieces.
Nest Interiors
Save
Email
These shelves include many textures and little pops of color, some framed items mixed among cooking tools, serveware and more, so the overall effect is interesting and approachable.
Fireclay Tile
Save
Email
Go tone on tone.
If you prefer a more subdued look, try sticking to all pale-colored objects. However, notice that even this restful look still includes ceramics in various shades and materials, so the palette is restrained but not monotonous. Try contrasting whites and off-whites to highlight the subtle undertones, along with a touch of glass and the occasional metallic accent.
Kate Roos Design LLC
Save
Email
Kate Roos Design LLC
Save
Email
Top with an upper shelf.
Sometimes the best thing to put on your top shelf is: nothing! Leaving a bare top shelf as a topper gives a polished look to your shelving, which makes the whole space feel subtly tidier.
13thirty Designs
Save
Email
Highlight with a sconce.
Finally, to really bring out the best of your shelving, add a sconce above to cast a little light on the situation. Don't have the option of hardwiring a fixture? Choose a plug-in sconce that comes with an elegantly simple metal channel to hide wires, run it down behind the shelving or next to a cabinet, and let it add to the open look – or simply run the wires back to a cabinet so they can be hidden to reach a power source.
More
Partly Open Shelving: The Case for Doorless Cabinets
The Pros and Cons of Upper Kitchen Cabinets and Open Shelves